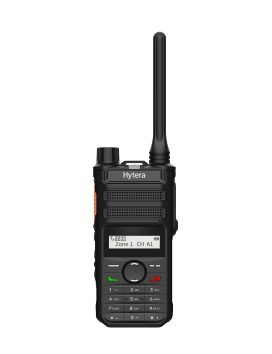 The fully analog AP588 business two-way radio is perfect for instant communication. 1.44-inch monochrome display, with a 3W speaker, the compact and light AP588 can deliver loud and clear audio. With a 2000mAh Li-ion battery, a low-consumption design, and a 10W USB Type-C charger, the AP588 walkie-talkie will ensure you stay connected and productive.
  Clear and Loud Audio

The AP588 has a 3W speaker and advanced noise cancellation algorithm to eliminate unwanted background noise, reduce distortion, and suppress howling caused by other devices when in close proximity of each other, delivering louder and clearer audio. The background noise will no longer slow down your communication, and you can hear and be heard wherever you are.

  Do More While Carrying Less
With a 2000mAh(optional) Li-ion battery, plus the low consumption design, the AP58X has a long 16-hour battery life. The 10W USB Type-C charger plug can get the radio fully charged in 1.8 hours, or charge the radio in just one hour to get 8 hours of talk time.

  Communicate Throughout Workplace
AP588 has a high-sensitivity receiving module and a high-efficiency monopole antenna to enhance signal penetration, and increase the radiation efficiency compared to the traditional antenna by 11% to extend the radio communication distance.

  Improve Work Efficiency
Compact and light, yet the AP588 is coupled with a package of features to make it easy to get your work done. Voice broadcast confirms the operation of a programmable button or changing the channel. Also, there are three kinds of optional signaling to deliver critical information by a simple pressing.