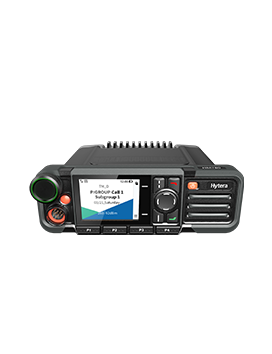 DMR Professional Digital Mobile Radio
HM788
HM788 is the next generation of professional digital mobile radio, flexible and scalable. The HM788 supports a standard single control head and remote control head (Single or dual) to suit different environments such as vehicles, motorcycles and fixed control rooms, ensuring efficient communication. Moreover, it provides various connections, through which rich applications can be integrated into existing services to improve work efficiency.
  MORE FLEXIBLE

Flexible control heads and accessories allow installation according to the user's requirements with a cable length of up to 40m.

  CLEARER AUDIO
Adopts AI noise cancellation technology to filter out background noise (such as road noise), eliminate echoes, enhance speech and reduce howling when in close proximity to the transmitting radio. With this technology, the mobile radio provides crisper and clearer audio when transmitting and receiving voice calls.

  MORE RELIABLE
Improved receiver sensitivity improves audio quality in weak signal areas to provide clearer audio.

  LOUDER AND CLEARER AUDIO
The HP788 has louder and clearer audio through an optimized forward-facing speaker and AI-based noise cancellation that decreases the unwanted background noise and howling and improves communication efficiency.

  RICH SCALABLE APPLICATION
Supports multiple connections through BT, and the accessory and network (Ethernet) ports. It also supports Clarity Transmission and back-to-back connections which will greatly facilitate your solutions.